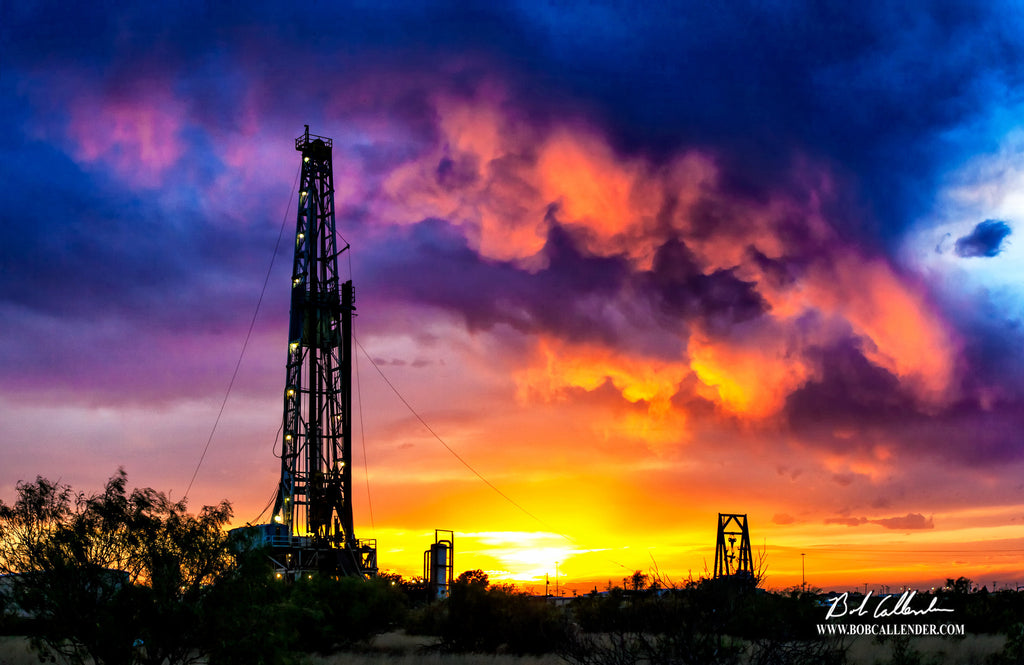 Callender Fine Art
American Oil
"American Oil," it makes me feel so proud to live in America!
"American Oil," brought up so many thoughts. As I smelled the possibility of rain and the aroma of the weeds. It brought back so many memories of growing up in the oilfield. I have to say seeing the rig along with all the smells brought back thoughts of my family. It is what I felt like as a child, to be living the American dream. A chance to have an adventure and know that my family was right there working. I was and am so proud of them. Just like many of you who see this image and think freedom! A chance to provide for your family and a day on a rig is always an adventure.
I am often asked about the sky in this image. When this image was taken, it had been a while since we had rain. As you look at the sky, it is starting to rain and as it falls it turns back up into the cloud. The particles in the sky and the light density of the rain reflected the sun with unique colors. I have always been mesmerized by the West Texas skies!
This artwork is created with a 2" museum wrapped canvas Giclée and is produced in a limited edition. Made from an original photograph, captured by Bob Callender. This print is hand signed and numbered, by the artist. Only archival materials are used in the creation of this print, to ensure consistent quality for the life of the print.

When all Limited Editions run out the master will be preserved for licensing and other purposes. The artist reserves all copyrights in the work of fine art this certificate accompanies. No reproductions can be made without expressed written permission of the artist.
---
Share this Product
---
More from this collection